Here is a video of the First 64, the most well-known formal sequence from the Wild Goose Qigong, or Dayan Qigong , system.
Fast Versus Slow
I perform the set quite fast in the video. Faster Wild Goose practice tends to activate more Yang energy and eliminate more stagnant Qi than doing it more slowly. (And the rain was coming any minute as I was filmed.)
Performing at a slower pace is also a wonderful way to practice this form.
I do the form (as best as I can emulate) in the style of Paul Li, my most recent teacher of Wild Goose Qigong.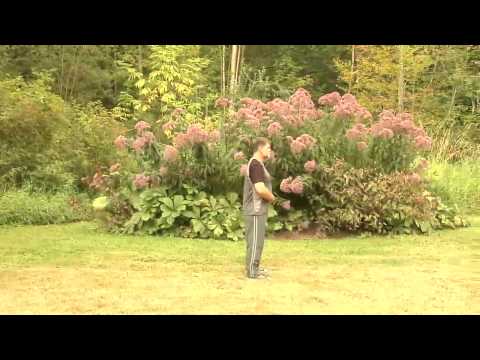 A Famous, Fun System of Exercise
Wild Goose Qigong is an intricate system of many movements done in the general style of Wild Geese. It is a famous system in China and getting more known here in the West all the time. It is great fun to practice.
There is so much just in this one form. There are
Many point-charging movements
Snap releases of Toxic Qi
Stretches
Qi Channel flow-increase movements
Qi absorption techniques
Organ regulating methods
Brain and nervous system regulating
Rooting stances to build a strong foundation
Kidney charging for building the body's energy
Lung opening moves
and more
Arms of the Goose
Notice how the arms are usually kept bent, like wings. This helps the Qi flow strongly through the arms.
Shimmering Hands
The special shaking hand motion is called Shimmering Hands. As far as I know this motion is unique to Wild Goose Qigong. Fast shimmering can break loose stagnations, open blockages, and build a more balanced nervous system. It can also be used to rapidly and repeatedly bring in new Qi and release old Qi.